Mighty Networks offers a unique combination of features that makes it the best software for anyone interested in building an online community. With its no-code platform for creating courses and its focus on user engagement, Mighty Networks sets itself apart from other software options. Plus, with its mobile-first design and innovative features like the icebreaker question and Members Near You, Mighty Networks is perfect for anyone looking to build a thriving online community. So, if you're ready to monetise an online audience or just want a truly engaging community – Mighty Networks could be a perfect choice!
Are you looking for a way to bring real connections and conversations online in an easy, organised way? If you're part of a small business or startup—or if you've ever been involved with one—you know that strong relationships are the backbone of any successful project. With Mighty Networks, you have the perfect solution for building an online community: network tools tailored to your goals, actionable insights around engagement, and organic connection-building capabilities that will help make your project thrive. Read on to learn more about how this powerful software can create meaningful relationships among team members and customers alike!
Mighty Networks is the perfect platform for creators, entrepreneurs, and brands looking to build their own digital community. Mighty allows users to create a custom brand-bearing Space under their own umbrella, crafted to match their vision with courses, membership options, and more. But Mighty isn't just a platform; it's also an innovative no-code community that offers up all sorts of content. Mighty users have access to chat tools as well as other features like commerce and customised courses—all of which come together to create a unique culture for engaging their communities. By leveraging Mighty's powerful toolset, any ambitious creator can leverage the power of culture to drive engagement and loyalty towards their brand.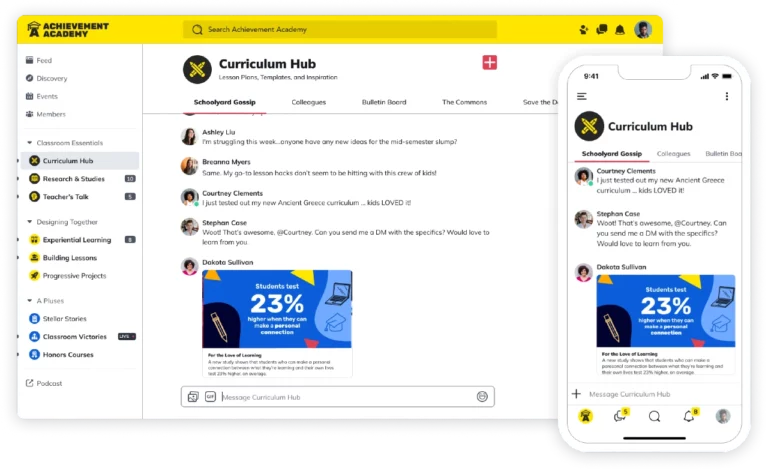 Ranked #1 for Online Community Management
Mighty Networks has truly earned its title as the #1 ranked community platform on G2 for Online Community Management Software products. And with good reason; Mighty Networks consistently receives the highest scores in growth rate, user satisfaction, and reviews from its users. Mighty Networks not only achieved the top spot, but beat out the competition by a considerable margin, making them the highest-ranked leader for small businesses.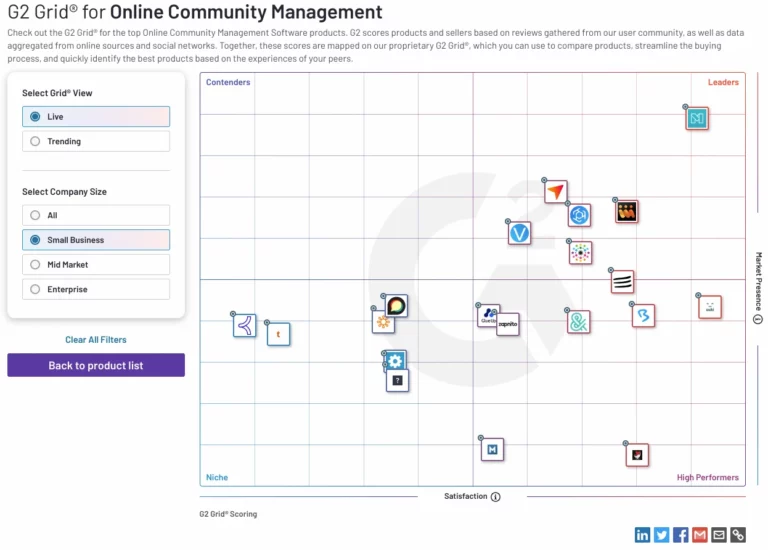 Mighty Networks - The Ultimate Cultural Software
Mighty Networks is the ultimate cultural software—it's the perfect way to design and scale your content, courses, commerce, and community into culture. With Mighty, creating culture around your brand couldn't be easier! Forget wasting time on coding—Mighty offers an intuitive Network designed to feel familiar so you can get up and running quickly. Dive right in with Mighty Spaces, these no-code containers that hold native features like web pages, chat rooms, events, memberships and more. Start building a network of loyal fans today with Mighty—plus check out their quick video to get all of the details you need to create a fantastic successful community.
Who is the target audience for Mighty Networks software?
Mighty Networks is designed for anyone who wants to create a community online. This could include:
Mighty Networks software offers a comprehensive package for educators wanting to build an online course or community. Mighty Networks specializes in giving educators the power to design and rollout their own course quickly and efficiently. Through Mighty Networks, users can create agile, searchable communities where members are able to discover valuable content, connect with one another and collaborate all from one platform. The software also provides analytics tools to measure engagement and keep track of activity within the course or community, making it easier for the educator to monitor how their students are doing. Mighty Networks is a great way for educators to impart knowledge and wisdom in a modern, streamlined way.
Mighty Networks is the perfect software solution for content creators who want to build their own personalised space online. Mighty Networks puts all of your content, memberships, courses, and communities in one easy-to-use platform so you can focus on building a thriving fan base. Mighty Networks takes the hassle out of managing a course or community by streamlining processes like onboarding new members, collecting payments, and promoting marketing campaigns – plus more! With Mighty Networks you'll have everything you need to create an engaging and interactive space for your fans, followers and customers.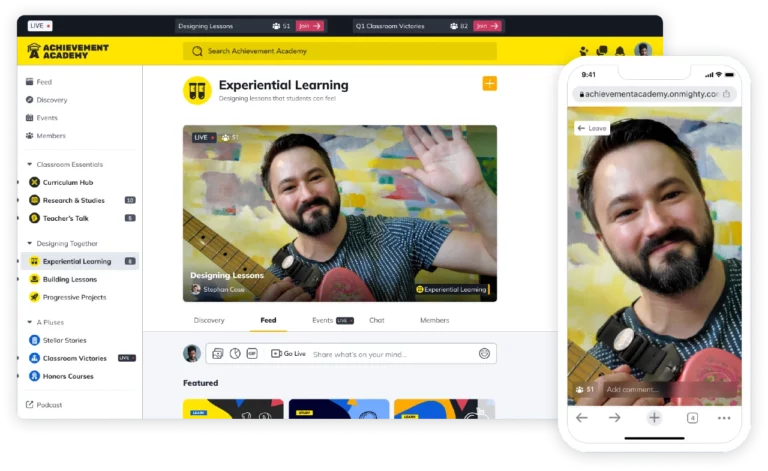 Mighty Networks is a great tool for small business owners who are looking to take their customer and partner relationships to the next level. Mighty Networks offers a wide range of features from building custom networks and courses, hosting communities, managing events, creating exclusive content, and selling memberships. All of these features can help small business owners better engage with customers and partners so they can build successful relationships that have the potential to grow their businesses even more. Mighty Networks has become a powerful asset for those looking to develop an online platform that gives them more control over their audience.
Mighty Networks is designed with professionals in mind—professionals who are looking for a place to gather together like-minded peers and share interests, thoughts, and ideas. Mighty Networks provides the perfect platform for professionals to create private and public communities, build courses for hands-on learning, and host engaging conversations. Mighty Networks software allows professionals to manage their own spaces, curate resources and content, and cultivate meaningful networks with ease. It's the ultimate destination for people wanting to engage with others around shared interests!
What are the benefits of Mighty Networks?
What are some of the benefits of using Mighty Networks to build an online community?
Mighty Networks is an incredibly powerful tool for building an online community that offers a wide range of benefits. With Mighty Networks, it's easy to create a vibrant and engaging community that meets the needs of its members. Here are just some of the key benefits from using Mighty Networks to build your online community:
Complete control over your brand
First, Mighty Networks lets you take control of your online community in a big way. You can customise the look and feel, from the logo to the design, so that it fits with your existing branding. It also gives you a chance to develop a unique tone of voice for your audience, making sure that conversations within your Mighty Networks Course or Mighty Networks Community truly reflect your values and ethos. With Mighty Networks, you're in charge!
Second, Mighty Networks offers an intuitive user-friendly interface that makes it easy for members to join and engage with your community. You can also set up different permissions for members, from private to public and secret or paid, so you have full control over who sees what content.
A focus on high user engagement
Third, Mighty Networks is dedicated to helping you engage your members and keep them coming back with features such as content and activity feeds, member profiles, conversations and comments, polls, posts, events and direct messaging. Additionally, there are innovative community features such as an icebreaker question for every new member and a "Members Near You" feature to help you find members close by.
Make money selling online courses
Finally, Mighty Networks is a great option if you're looking to build an online community and make money off it! With Mighty Networks, you can easily create and host your own courses – all under your brand. This provides your members with multiple ways to engage with your community, whether its watching videos or taking part in group discussions. You can even create subgroups for more targeted interactions and sales funnels for any products or services you want to offer. Mighty Networks has become a fantastic platform to grow and monetise an online audience!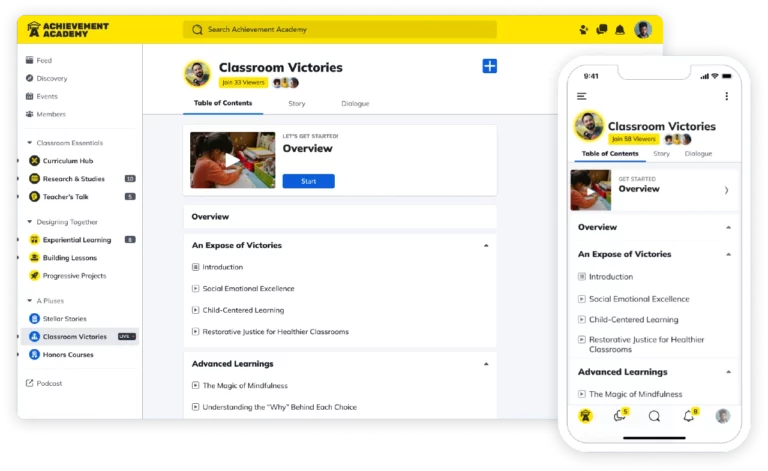 Whether you're looking to build an engaging and vibrant community or share exclusive content and courses, Mighty Networks has you covered. With its wide range of features and customisable design, Mighty Networks makes it easy to create the
How much does Mighty Networks Software cost?
Mighty Networks is the perfect platform for your online business and/or community, offering a variety of packages to suit all needs. If you're just starting out, their Community Plan is priced at $33 per month, providing the perfect foundation for building a community with livestreaming, chatrooms, memberships, events and more. If you're ready to grow your Mighty Network into a business, the Business Plan puts more resources at your fingertips – priced from $99 per month it lets you create personalized and engaging online courses and memberships. For those looking to level up past success Mighty Pro offers apps and marketing tools without needing custom development – perfect for the ultimate Mighty Networks course!
Mighty Networks is the ultimate toolkit for educators, content creators, small business owners and professionals wishing to build their own community and make money off of it. It provides customisable options that can help you figure out exactly what your members need, gives you control over how your brand is perceived, and enables profits from selling online courses. So if you're looking to craft something special – give Mighty Networks a try!