As someone who has worked in technology for many years, I've had the opportunity to work with and manage different types of product managers. And if there's one thing I've learned, it's that product managers are essential to a company's success.
First and foremost, a product manager is responsible for understanding the customer. They need to know who the customer is, what they want, and what they need. In many cases, the product manager is also responsible for defining the product. They identify the short-term and long-term goals of the product, as well as its features and functionality. They also search for marketable opportunities and work with the team to develop and execute a product roadmap.
In this blog post, I want to take a closer look at what product managers do and why their role matters. Stay tuned!
The role of a product manager and what they do
A product manager is a vital role in any company. They are the ones who oversee the product from start to finish, making sure that it is successful and meets customer needs. This includes defining the product, searching for marketable opportunities, team management, and more. Product managers must also be aware of current market trends and be able to execute and test products effectively. In order to be a great product manager, one must have a strong understanding of both the customer and the product itself.
Understanding the customer
When it comes to creating a successful product, it's all about understanding the customer. One of the best ways to do this is through user persona creation. This involves designing characters to represent the types of customers that will use the product in the future. To create an accurate user persona, you'll need to study customer behaviour, motivations, and psychology. This research will help you understand their needs and problems, so you can design a product that perfectly meets their needs. There are four key areas to consider when creating a user persona: comfort, choice, quality, and price. By taking all of these factors into account, you'll be able to create the perfect user persona – and ultimately create a successful product.
Understanding the market trends
As a product manager, it's important to understand product market trends. This means being aware of what consumers want and need, as well as what's already available on the market. It's also important to be able to predict future trends so that you can plan product releases accordingly. Keeping a close eye on the market will help you make decisions about what products to develop and release, and when to do so. In addition, understanding market trends will also help you determine the best packaging, features, and pricing for your products. By staying up-to-date on market trends, you can ensure that your product meets consumer needs and stays ahead of the competition.
Keeping an eye on the metrics
As a product manager, it's important to keep an eye on the metrics of your product. This means monitoring how well the product is doing in the market in terms of financial success, user engagement, retention rate, product acceptance, and customer satisfaction. These metrics are essential in adjusting the marketing and sales strategies for the product. By keeping an eye on the metrics, you can ensure that your product is on track to meet its goals.
Searching for market opportunities
A product manager's primary responsibility is to search for opportunities in the market that are profitable for a new product. This involves understanding customer needs and wants, as well as trend analysis. Once a niche is identified, the product manager will develop a new product or upgrade an existing one to fill that niche. In order to be successful, it is essential to have a deep understanding of the customer base and market trends. without this knowledge, it would be difficult to identify potential opportunities. Additionally, a strong market analysis skillset is needed in order to determine whether or not the opportunity is worth pursuing. If done correctly, searching for market opportunities can be a very lucrative endeavour.
Explaining what it is and what it's not
When building a product, it's important to have a clear vision for what you want to create. But it's not enough to just have an idea in your head- you need to be able to communicate that vision to other people who are involved in the process. That's where product managers come in. A good product manager is able to take an idea and explain it in a way that everyone can understand. They also need to be able to articulate the feasibility of the product and how it will be used by consumers. By clearly defining the goals and expectations for a product, product managers can help ensure that everyone is on the same page and working towards the same goal. The end result is a better product that meets the needs of both the company and consumers alike.
Identifying the short-term and long-term objectives
As a product manager, it's important to be able to see both the short and long-term value of a product for both the company and the customer. This means outlining detailed and realistic strategies to achieve both in the product roadmap. It's also important to be able to see how these two things fit together and how they interact with each other on the roadmap. For example, if you're looking at a product that has a lot of potential but is currently underperforming, you might want to focus on short-term strategies to improve its performance while also keeping an eye on long-term goals. This way, you can ensure that the product is meeting both its short-term and long-term objectives.
What is a product roadmap and why is it important?
A product roadmap is a high-level plan that shows the various stages of a product's life cycle and how they interact with each other. It can be used to outline everything from the initial concept phase to post-launch support. As a product manager, it's essential to have a well-defined roadmap in order to keep everyone on track. The roadmap should be updated regularly to reflect changes in the market and product development.
If you're looking for a way to build product roadmaps quickly, I recommend looking at ProductPlan. You can create beautiful product roadmaps that communicate the big picture to stakeholders in minutes! And the best part? It's free to try today!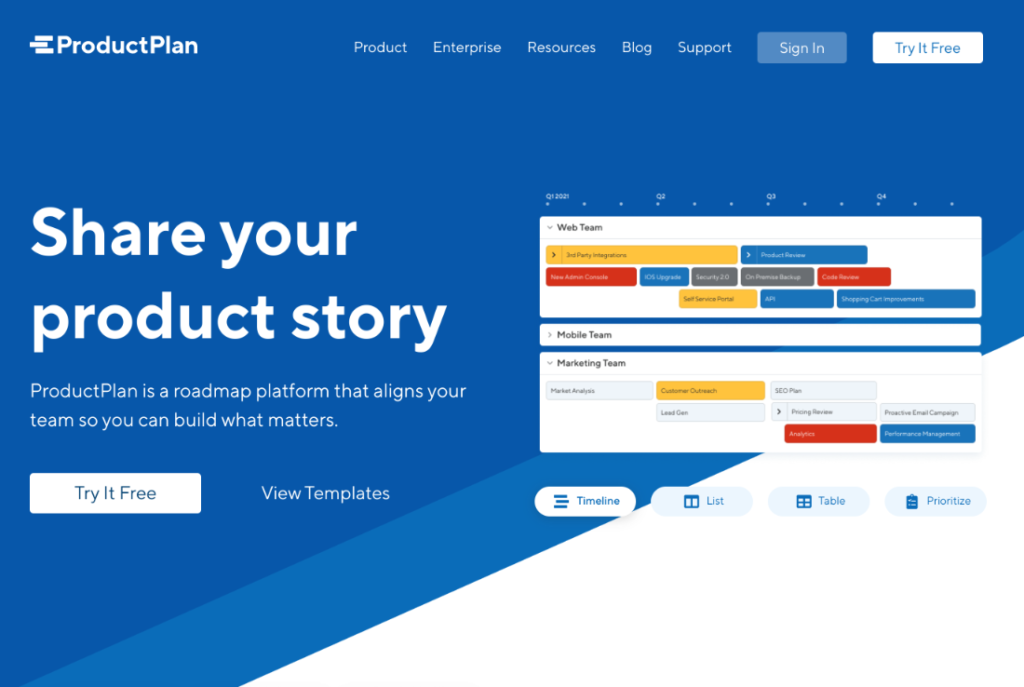 Building the thing that goes
Developing and testing the product
High product quality is essential for any product to be successful. That's why product managers must ensure that their product undergoes adequate development and testing before it hits the market. This involves ensuring that all features are included and that the product meets the agreed upon acceptance criteria. Only then can product quality testing commence. Through these tests, product managers can ensure that their product is up to par and ready for market. By taking these steps, product managers can help ensure the success of their product.
Constant product improvement
Product managers are always looking for ways to improve their products. They do this by analysing customer feedback, testing the product, and managing any challenges that come up. In the end, it's up to the product manager to decide how the product should look and what strategies to use to reintroduce it to the market. This is a continuous process that happens throughout the product's life cycle.
Agile development is an approach to product development that emphasizes constant iteration and improvement. The agile manifesto, a set of principles for agile development, was first published in 2001. Since then, agile has become one of the most popular development methodologies in the software and IT services community. One of the most well-known agile frameworks is scrum. Scrum is a framework for agile development that includes a set of roles, responsibilities, and ceremonies.
"We are uncovering better ways of developing software by doing it and helping others do it... Our highest priority is to satisfy the customer through early and continuous delivery of valuable software."
The scrum framework is designed to help teams deliver products in a constant, iterative cycle. Scrum teams typically consist of a product owner, a scrum master, and developers. The product owner is responsible for defining the product backlog, a prioritised list of work items that need to be done. By constantly improving the product, product managers can ensure that it remains relevant and competitive.
Launching that rocket to the moon
Collaboration with other teams
Collaborating with other teams is essential for the product manager in order to get the product successfully launched into the market. The product manager must work with the marketing team to ensure that the product is priced correctly, that there is a clear launch date, and that there is a strategy for managing competition and media channels. Although the product manager does not do marketing, he must be able to effectively communicate with the marketing team in order to ensure a successful launch. In addition, the product manager must also interact with other departments, such as sales and customer support, in order to ensure that the product meets customer needs. Effective collaboration with all team members is essential for the success of the product manager.
Ensuring successful product launches
Product managers need to develop a product launch plan that covers all the key elements of a successful product launch. These elements include market research, product positioning, messaging, target audience, product packaging, go-to-market strategy, and more. A product launch plan ensures that all the necessary steps are taken to make the product launch successful. In addition, a product manager needs to set realistic expectations for the product launch and manage those expectations throughout the process. If done correctly, a product launch can be a huge success and help the business or organisation achieve its goals.
Product managers are the backbone of any company. They play an essential role in ensuring that the product is successful and meets customer needs. This includes everything from defining the product to executing it effectively in the market. In order to be a great product manager, one must have a strong understanding of both customers and products. What do you think sets apart good product managers from great ones? Let me know in the comments below!